Dominic Razlaff (DR), born 1982, is a sound artist from Lower Saxony, Germany. 
Uses synthesizers, acoustic instruments (Ukulele & Cavaquinho ) field recordings, tape loops & granular synthesis to create melancholy ambient / drone soundscapes.
A Miscellany Of Tasteful Music
1208 North Fuller Ave Apt 1
A Miscellany Of Tasteful Music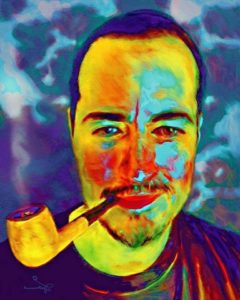 A Miscellany of Tasteful Music/Art/Film/Litis a blog-zine dedicated to reviewing old and new artistic material from a non political point of view.
My art and music tastes hover from Baroque to Avant-Garde/Experimental.  If you consider yourself as open-minded as you think you are, consider that people of a different political, moral and ethical persuasion might just be into the same music, film, literature and art that you're into, and might teach you a thing or two about it .
Rudy Carrera.
DR – Tea Sessions – Much respect to Dominic Razlaff for this album of four sessions which drift off gently into the sea, rather than in space. I'm not quite sure why, but while relaxing and listening to the album, I feel a sense of calm that I felt in places like the Black Sea, where I'm headed to in a couple of weeks [ continue reading… ] 
1208 North Fuller Ave Apt 1