Zumaia & Obasquiat - Burn Fascists not Forests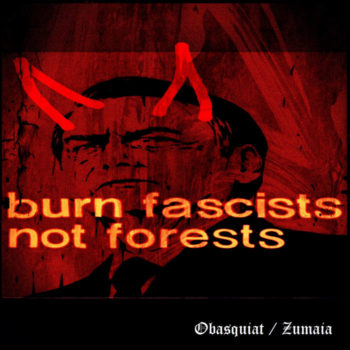 Released 20 October 2020
Previously released on Sunyatha Records in 2019 August 28th.
A corroded system where the "enemy" ghost wears red, somewhere a supposed representative of a nation ranting speeches that violate with the different.
The far right rises again with cynical and unscrupulous fascism masked by a totally disastrous protectionist policy.
The world on fire the Amazon burns and hatred is the watchword.
No to fascism and its sympathizers !
Here is a manifesto against this intolerance and ignorance of some alleged representatives who only turn out to be utterly incapable of leading a nation that as a whole also sinks slowly…
Mission: Hang up fascists upside down !
This split is a collaboration between Zumaia (France) + Obasquiat (Brazil) projects.
obasquiatofficial.bandcamp.com
zumaia.bandcamp.com
various18.bandcamp.com