The INTENT  compilation series is (aiming to be) a long-running series inspiring and motivating electronic and experimental music artists around the world to participate in the creation of their own reality through setting intentions for the coming year
Unlike the INTENT series, PARADIGM is heading towards the stepping stones within the journey instead of perfection far away on the horizon, enjoying the ride without focusing too much on the destination.
The series consists of short EPs primarily featuring Linn and her friends/collaborators.
This album by Oriondrive aims to "let the intentions out", fulfilling the desire to share the goals, but simultaneously hiding them behind the CRC-32 hashes, which cannot be decrypted. 
" A short EP dedicated to the birthday of Zumaia, who turned 50 this year. "
Linn Friberg
This 30-minute track aids problem-solving in stressful situations using isochronic tones (alpha and theta range), softly alleviating anxiety and focusing the user on the task.
The track is also suitable for use in group meditations and Reiki healing sessions.
"Soft Focus" was successfully utilized as background music during the Healing Synergy workshop with Magdalena Ekenberg on November 15th, 2019.
Music you need to hear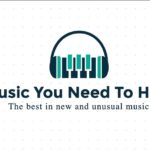 Oddity Spirale (Remixes) by Linn Friberg feat. Zumaia
Our dear friend Zumaia has reached the mid-century mark in his life, which is, of course, a wonderful milestone.  We at Music You Need To Hear celebrate his birth, and the exceptional work he does with his label, the Bordeaux-based Kalamine Records.  In honor of this milestone, Linn Friberg, composer and curator of the INTENT series on the label collaborate on a sonic birthday present for fans of the label.
The music is cavernous, full of post-industrial and dark ambient soundscapes.  I would compare the sound to early experimental cassette-based musicians, but the sounds are so…[continue reading]
Albert E. Trapezoid